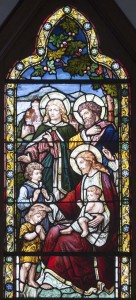 St. Luke's Episcopal Church
Love and Serve 365
219 Chunns Cove Road
Asheville, NC 28805
(828) 254-2133
office@stlukesavl.org
The Small Church
"In a big world, the small church has remained intimate. In a fast world, the small church has remained steady. In an expensive world, the small church has remained plain. In a complex world, the small church has remained simple. In a rational world, the small church has kept feeling. In a mobile world, the small church has been an anchor. In an anonymous world, the small church calls us by name."
—The Anglican Digest
---
Sundays:
Holy Eucharist at 8:00 and 10:30 a.m.
Adult education 9:00 – 10:00 a.m.
Children's education 10:30 a.m.
Mondays:
Centering Prayer 6:30 – 6:50 p.m.
Wednesdays:
Holy Eucharist with Prayers for healing at 12:15 p.m.
---
The Good Book Club began Sunday, Feb 11, and we wanted to pass along some final updates and materials as you prepare to join this journey. Please go to the Ministries/Learning tab above for more information!
---
Schedule for Holy Week & Easter Day, 2018
Sunday, March 25, 8:00 & 10:30 a.m.— The Sunday of the Passion: Palm Sunday We will meet in the church bearing palms and participate in a reading of the Gospel
Wednesday, March 28 ,12:15 p.m. —The Holy Eucharist with Prayers for Healing
Thursday, March 29, 6:00 p.m. — Simple Soup Supper
7:00 p.m. — Maundy Thursday liturgy with hand– and foot-washing and stripping of the altar
Friday, March 30,12:15p.m. —Good Friday liturgy
1:00-3:00 p.m. The church will be open for silent meditation and prayer
6:00 p.m. Stations of the Cross

Saturday, March 31, 9:30 a.m. — Baptism Rehearsal (Trantham Family)
10:30 a.m. —Holy Saturday liturgy
Sunday, April 1, 8:00 & 10:30 a.m. Easter Day with Holy Baptism
(Arlin Geyer, recorder, Susan McCann, Baroque flute, Joe Baily, bagpipes)
Bring a finger food to share at a reception following the 10:30 service, A bell to ring in the "Alleluias";
Fresh flowers for the flowering cross; and
An Easter basket for an Easter egg hunt at 11:45!