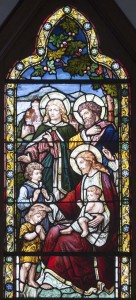 St. Luke's Episcopal Church
Love and Serve 365
219 Chunns Cove Road
Asheville, NC 28805
(828) 254-2133
office@stlukesavl.org
The Small Church
"In a big world, the small church has remained intimate. In a fast world, the small church has remained steady. In an expensive world, the small church has remained plain. In a complex world, the small church has remained simple. In a rational world, the small church has kept feeling. In a mobile world, the small church has been an anchor. In an anonymous world, the small church calls us by name."
—The Anglican Digest
---
Sundays:
Holy Eucharist at 8:00 and 10:30 a.m.
Adult education 9:00 – 10:00 a.m.
Children's education 10:30 a.m.
Wednesdays:
Holy Eucharist with Prayers for healing at 12:15 p.m.
---
CHRISTMAS WEEK SERVICES AT ST. LUKE'S
Sunday, December 22, Advent IV 8:00 & 10:30 — Holy Eucharist
11:30— Hanging of the greens following 10:30 service Tuesday December 24, Christmas Eve
5:00 p.m. — A Family Eucharist and children's Christmas Pageant; children please arrive at 4:15 to pick out costumes! (Andrew & Jim Magill, fiddle and guitar)
8:00 p.m. — Save room for dessert! Please join us for a coffee and dessert reception; bring your favor- ite dessert to share! Suzanne Tourtillott, host
9:00 p.m. — A Candelit Christmas Eucharist (Andrew & Jim Magill, fiddle & guitar)
No services will be held on Wednesday, December 25; office will be closed from Wednesday, December 25 through Saturday, December 28. If you are interested in attending a Christmas Day service, services will be held at Trinity, Asheville and All Souls at 10:30 a.m.
---
Please join us for a 12 week exploration of the Bible!
Sundays 9-10 a.m.
Thursday, September 26 6-7:30 p.m. (continuing on Wednesday evenings beginning October 2)
I hope you will order a copy of the curriculum on eBay, grab your Bible and join us!
"When you stop trying to force the Bible to be something it's not–static, perspicacious, certain, absolute–then you're free to revel in what it is: living, breathing, confounding, surprising, and yes, perhaps even magic." ―
Rachel Held Evans, Inspired: Slayin