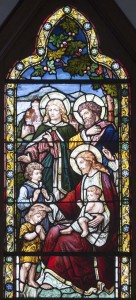 St. Luke's Episcopal Church
Love and Serve 365
219 Chunns Cove Road
Asheville, NC 28805
(828) 254-2133
office@stlukesavl.org
The Small Church
"In a big world, the small church has remained intimate. In a fast world, the small church has remained steady. In an expensive world, the small church has remained plain. In a complex world, the small church has remained simple. In a rational world, the small church has kept feeling. In a mobile world, the small church has been an anchor. In an anonymous world, the small church calls us by name."
—The Anglican Digest
---
Sundays:
Holy Eucharist at 8:00 and 10:30 a.m.
Adult education 9:00 – 10:00 a.m.
Children's education 10:30 a.m.
Mondays:
Centering Prayer 6:30 – 6:50 p.m.
Wednesdays:
Holy Eucharist with Prayers for healing at 12:15 p.m.
---
The Good Book Club began Sunday, Feb 11, and we wanted to pass along some final updates and materials as you prepare to join this journey. Please go to the Ministries/Learning tab above for more information!

 Adult Education Study  Sundays 9:00 – 10:00 a.m.

"In the beginning was the Word, and the Word was with God and the Word was God." So begins the powerful witness of the fourth Gospel. During the weeks of Lent we will read the Gospel according John and reflect on its beautiful language and unique perspective on the life, death and resurrection of Jesus.