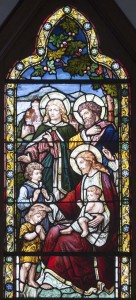 St. Luke's Episcopal Church
Love and Serve 365
219 Chunns Cove Road
Asheville, NC 28805
(828) 254-2133
office@stlukesavl.org
The Small Church
"In a big world, the small church has remained intimate. In a fast world, the small church has remained steady. In an expensive world, the small church has remained plain. In a complex world, the small church has remained simple. In a rational world, the small church has kept feeling. In a mobile world, the small church has been an anchor. In an anonymous world, the small church calls us by name."
—The Anglican Digest
---
Schedule for Holy Week & Easter Day, 2019
Sunday, April 14, 8:00 & 10:30 a.m. – The Sunday of the Passion: Palm Sunday
We will meet outside, weather permitting, bearing palms and participate in a reading of the Gospel
Wednesday, April 17, 12:15 p.m. – The Holy Eucharist with Prayers for Healing
Thursday, April 18, 6:00 p.m. – Simple Soup Supper
7:00 p.m. – Maundy Thursday liturgy with hand and foot washing and stripping of the altar
Friday, April 19, 12:15 p.m. – Good Friday liturgy
1:00-3:00 p.m. The church will be open for silent meditation and prayer
6:00 p.m. Stations of the Cross
Saturday, April 20, 10:30 a.m. – Holy Saturday liturgy
Sunday, April 21, 8:00 & 10:30 a.m. Easter Day
(Lorraine Lordi, hammered dulcimer, Steve Andrews, bagpipes)
Bring a dish to share at a potluck lunch following the 10:30 service, a bell to ring in the "Alleluias"; Fresh flowers for the flowering cross; and an Easter basket for an Easter egg hunt at 11:45! Thank you Maya Langford and her family for hosting the egg hunt.
---
Sundays:
Holy Eucharist at 8:00 and 10:30 a.m.
Adult education 9:00 – 10:00 a.m.
Children's education 10:30 a.m.
Wednesdays:
Holy Eucharist with Prayers for healing at 12:15 p.m.
---