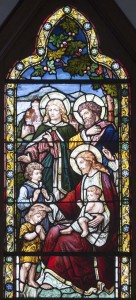 St. Luke's Episcopal Church
Love and Serve 365
219 Chunns Cove Road
Asheville, NC 28805
(828) 254-2133
office@stlukesavl.org
Welcome to St. Luke's Episcopal Church! We will not be gathering as scheduled for services or meetings during the shelter in place period.  However, the office is open Wednesdays and Fridays,  10 am – 1 pm and you can reach us by phone or email at (828) 254-2133 or office@stlukesavl.org.
For worship resources during this time, please email us to get on the invitation for our online Zoom services, or visit: https://cathedral.org/ , http://www.trinityasheville.org/, and https://www.lectionarypage.net/#march.
For AA meetings and resources, please contact District 70 at:  www.ashevilleaa.org.
For other information or to contribute online click here.
May the blessings of God be with you.
---
A Prayer in Time of Pandemic
This hour we turn to you, O Lord, in full knowledge of our frailty, our vulnerability, and our great need as your mortal creatures.
We cry to you, as one human family, unsure of the path ahead, unequal to the unseen forces around us, frightened by the sickness and death that seem all too real to us now.
Stir up your strength and visit us, O Lord; be our shield and rock and hiding place!
Guide our leaders, our scientists, our nurses and doctors. Give them wisdom and fill their hearts with courage and determination.
Make even this hour, O Lord, a season of blessing for us, that in fear we find you mighty to save, and in illness or death, we find the cross to be none other than the way of life.
All this we ask in the name of the One who bore all our infirmities, even Jesus Christ our Risen and Victorious Lord. Amen.
by the Rev. Dr. Kate Sonderegger
---
Sundays:
Holy Eucharist at 8:00 and 10:30 a.m.
Adult education 9:00 – 10:00 a.m.
Children's education 10:30 a.m.
Wednesdays:
Holy Eucharist with Prayers for healing at 12:15 p.m.
Please join us Sunday mornings at 9 am for a study of the Synoptic Gospels: Mathew, Mark and Luke. We are using this text written by Ed Bleynat as we explore the literary, historical and theological aspects of these books.
Bleynat has drawn on many historical resources, from his ancestors, the ancient Waldenses; to medieval theologian, St. Thomas Aquinas; to the great reformer, Martin Luther; to Thomas Jefferson, with his marketplace of ideas and commitment to the centrality of religious liberty to American life. His more contemporary resources include theologians and scholars such as Paul Tillich, C.S. Lewis, John Dominic Crossan, and Luke Timothy Johnson.
From Bethlehem to the River Jordan spans from the synoptic birth narratives to the baptism of Jesus. The author places these three Gospels in their historical contexts and explores the similarities and differences among them. It is in these places that he invites the reader to find the meaning behind and within the gospel texts. This is an invaluable and welcome resource for individual or group study and discussion of the Bible."