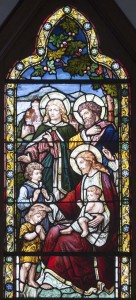 St. Luke's Episcopal Church
Love and Serve 365
219 Chunns Cove Road
Asheville, NC 28805
(828) 254-2133
office@stlukesavl.org
The Small Church
"In a big world, the small church has remained intimate. In a fast world, the small church has remained steady. In an expensive world, the small church has remained plain. In a complex world, the small church has remained simple. In a rational world, the small church has kept feeling. In a mobile world, the small church has been an anchor. In an anonymous world, the small church calls us by name."
—The Anglican Digest
---
Sundays:
Holy Eucharist at 8:00 and 10:30 a.m.
Adult education 9:00 – 10:00 a.m.
Children's education 10:30 a.m.
Wednesdays:
Holy Eucharist with Prayers for healing at 12:15 p.m.
Please join us Sunday mornings at 9 am for a study of the Synoptic Gospels: Mathew, Mark and Luke. We are using this text written by Ed Bleynat as we explore the literary, historical and theological aspects of these books.
Bleynat has drawn on many historical resources, from his ancestors, the ancient Waldenses; to medieval theologian, St. Thomas Aquinas; to the great reformer, Martin Luther; to Thomas Jefferson, with his marketplace of ideas and commitment to the centrality of religious liberty to American life. His more contemporary resources include theologians and scholars such as Paul Tillich, C.S. Lewis, John Dominic Crossan, and Luke Timothy Johnson.
From Bethlehem to the River Jordan spans from the synoptic birth narratives to the baptism of Jesus. The author places these three Gospels in their historical contexts and explores the similarities and differences among them. It is in these places that he invites the reader to find the meaning behind and within the gospel texts. This is an invaluable and welcome resource for individual or group study and discussion of the Bible."