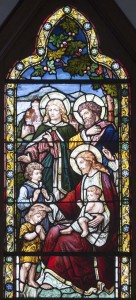 St. Luke's Episcopal Church
Love and Serve 365
219 Chunns Cove Road
Asheville, NC 28805
(828) 254-2133
office@stlukesavl.org
Welcome to St. Luke's Episcopal Church!
During Phase 3 of the COVID-19 pandemic, we are gathering in different ways for worship, prayer, study and service. The office is open Wednesdays and Fridays,  10 am – 1 pm and you can reach us by phone or email at (828) 254-2133 or office@stlukesavl.org.
For AA meetings and resources, please contact District 70 at:  www.ashevilleaa.org.
Schedule for Holy Week & Easter Day, 2021 
The Sign-Up link will be sent out on Wednesdays for the Easter Day service.
*These services are available by Zoom. Contact office@stlukesavl.org if you need an invitation.
*Sunday, March 28 10:30 a.m.— The Sunday of the Passion: Palm Sunday 
   Zoom only
*Wednesday, March 31,12:15 p.m. —A service of Prayers for Healing in Hamilton Hall 
No sign up necessary. 
*Thursday, April 1, 6:00 p.m. — Bring your own picnic supper
7:00 p.m.  Maundy Thursday liturgy & meditation.    No sign-up necessary.
*Friday, April  2 12:15p.m. —Good Friday liturgy in the gazebo.  No sign-up necessary.
           1:00-3:00 p.m. The church will be open for silent meditation and prayer 
            6:00 p.m. Stations of the Cross in the gazebo   No sign-up necessary; in-person only.
Saturday, April 3,  10:30 a.m. —Holy Saturday liturgy  in Hamilton Hall.
 No sign up necessary ; in-person only
Saturday, April 3 8:00 p.m. – A Vigil for Easter begins in the gazebo
 No sign up necessary ; in-person only
*Sunday, April 4 10:30 a.m. Easter Day  
We will worship in the gazebo, weather permitting. Please sign up to attend in person.
Drive in Holy Communion available 12 noon – 1:00 pm in the lower parking lot.
Bring a bell to ring in the "Alleluias" and enjoy a cup of punch together after the service
May the blessings of God be with you.
---
A Prayer in Time of Pandemic
This hour we turn to you, O Lord, in full knowledge of our frailty, our vulnerability, and our great need as your mortal creatures.
We cry to you, as one human family, unsure of the path ahead, unequal to the unseen forces around us, frightened by the sickness and death that seem all too real to us now.
Stir up your strength and visit us, O Lord; be our shield and rock and hiding place!
Guide our leaders, our scientists, our nurses and doctors. Give them wisdom and fill their hearts with courage and determination.
Make even this hour, O Lord, a season of blessing for us, that in fear we find you mighty to save, and in illness or death, we find the cross to be none other than the way of life.
All this we ask in the name of the One who bore all our infirmities, even Jesus Christ our Risen and Victorious Lord. Amen.
by the Rev. Dr. Kate Sonderegger
---
Sundays:
Holy Eucharist at 8:00 and 10:30 a.m.
Adult education 9:00 – 10:00 a.m.
Children's education 10:30 a.m.
Wednesdays:
Holy Eucharist with Prayers for healing at 12:15 p.m.