St. Luke's is blessed with a beautiful, historic worship space.  The current church was built in 1894 and has been lovingly preserved by generations of parishioners.  Listed on the National Registry of Historic Buildings, the church is a fine example of the classical Gothic style of architecture.  Visitors invariably note the feel of connectedness with God and the past that exists in the nave.  Stained glass and woodwork evoke warmth, spirituality, and craftsmanship. Truly the church is a unique space, retaining an atmosphere of tradition in a modern world.
Outside the church, the grounds encompass a small graveyard, with markers dating to the very early 20th century.  In more recent years, a Garden of Resurrection for cremated remains was established in the shady lawn to the south.  In the 1950s a parish house was erected to the north, and parking expanded as well.  Ministries, education and parish meetings, and meals occur in this building, and, demonstrating the parish's commitment to outreach, it is shared with recovery groups that meet there daily.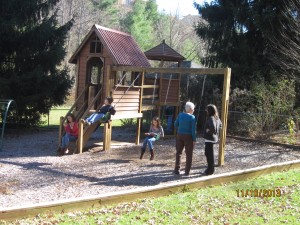 Since 2008 the parish has been working with local environmental groups to remove exotic invasive plant species from the area by Ross Creek, which runs along the eastern property line. In 2012 and 2013, the RiverLink organization assisted in removing additional invasive plants and installed a naturalistic rain garden and bioswale to improve drainage and reduce hazardous runoff into the creek.  This remains a work in progress as each year, additional clearing is done by hard-working crews of parishioners and other volunteers.
All around the grounds, well-tended gardens of native flowers and plants provide beautiful space for contemplative strolls.  A labyrinth of river stone is in place near the creek.  It is always available for individual walks, and several times a year, formal services are held at various times of day for group experiences of this lovely tradition.  "Lawn Stewards", "Weed Warriors" and "Weed Scouts" take pride in caring for and beautifying the grounds.
St. Luke's embodies a culture of stewardship and care for its buildings and grounds.  We hope you find a welcoming, beautiful space to worship and feel God's presence.