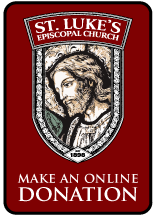 Dear St. Luke's Family,
It is an exciting time to be part of the St. Luke's family. On behalf of the Capital Campaign Committee, we thank you for your ongoing support these past few months and your resounding response to our recent feasibility study. The study is a clear indication that as a parish we are prepared to move forward with our building plans to provide the additional space that St. Luke's so desperately needs.
To start the process, we are kicking off a 3-5 year capital campaign this November to raise the funds necessary to complete the vision of a new parish hall and renovations to Kimball Hall. It has been determined that a campaign goal of $337,000 from the generous gifts and pledges of our congregation, $50,000 from diocesan sources and up to $65,000 approved by the vestry from our ample savings will allow us to make these improvements. Your support, no matter how small or large, will be a reflection of your devotion to our faith community that we all know and love.
In 1894 previous generations made commitments to St. Luke's that provided the funds necessary to construct the sanctuary we continue to worship in today. We owe them a debt of gratitude for the foresight and courage they showed 121 years ago. And now it is our turn. It is time for us to come together to achieve the vision our parish family has expressed for St. Luke's, and we ask that you prayerfully consider a financial pledge to support our capital campaign.
May the blessing of God's love continue to nourish you in the days to come.
John Parker            Bill Keith
Campaign co-chairs
We will kick-off the capital campaign with a Low Country Boil on Sunday, November 15 after the 10:30 service. Materials about the project will be available.