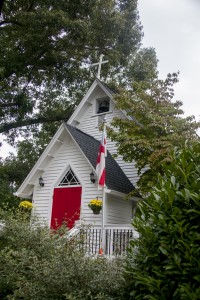 St. Luke's Episcopal Church
219 Chunns Cove Road
Asheville, NC 28805
(828) 254-2133
The parish office is open Wednesdays and Fridays  9:30 a.m. – 12:30 p.m. and by appointment.  Feel free to call ahead to see if someone is available.
Directions from Tunnel Road: Head north on Chunns Cove Road for ½ mile. St. Luke's is the small, white church with the red door on the right side of the road. You may park along Chunns Cove Road or in the lower parking lot.
We look forward to seeing you!