---
"But strive first for the kingdom of God and his righteousness, and all these things will be given to you as well."
Matthew 6:33
---
Giv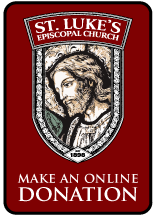 ing is at the top of the long list of ways we Love and Serve at St. Luke's. In serving the needs of our congregation and church family or in extending the love of Christ to the greater community, we seek to create opportunities for our friends and members to share of their time, talent, and resources.  We strongly believe that each one of us is endowed by God with one of those gifts to share.  Many of our members actively participate in one or more of our many ministries.  We also encourage tithing to maintain our spiritual home and community structure. Please contact us to explore how your gifts from God can serve St. Luke's and our greater community. Many of our members have even looked to the future in creating legacy gifts to St. Luke's.  If you are interested in planned giving as a part of your estate, we are happy to share the resources from the Episcopal Church Foundation and the Living Stones Society of the Episcopal Diocese of Western North Carolina.
FAQs about Financial Stewardship at St. Luke's
What is a financial pledge?
A financial pledge is a written statement of intent to give a certain amount of money for God's work through the parish. The Vestry usually asks for pledges from all active, adult members of the parish in the fall for the coming year.
Why is it important for members to make a financial pledge each year?
There are several reasons why pledging is important. Pledging is a spiritual practice of intentional, disciplined giving. Making a regular financial commitment is a reminder that everything we have belongs to God. Pledging helps us order our financial life around our spiritual commitment to God and is a tangible act of thanksgiving. Financial gifts enable the parish share the Good News of God in Christ through the presence of a priest, repairs and upkeep of worship and meeting spaces, educational materials and outreach support. Making a pledge indicates that you are a committed part of the community of faith at St. Luke's. Communicating your plans for giving also helps the vestry plan for ministry in the coming year.
What is the difference between a pledge, an offering and a tithe?
A pledge is a statement of the intent to give a regular amount over the course of a year. An offering is a spontaneous gift given to God without the aspect of commitment over time. A tithe is a commitment of giving 10% of one's income to God.
How do I decide how much to pledge?
Pledging begins with prayer. Take the question of making a financial pledge to God and ask for guidance. Pay attention to what thoughts and feelings come up in your prayer and consider discussing them with your priest or a trusted spiritual friend. Then pick an amount that feels doable.
Many people begin a practice of pledging with proportional giving. In this model you estimate how much of your income you will give in a coming year, for example, 1%, 2%, 5%. This becomes the starting point for a lifetime of faithful financial stewardship.
What is a tithe?
A tithe is a giving 10% of your income back to God. The tithe is the biblical norm for giving and was affirmed by the Episcopal Church as the standard for giving for all members.
A tithe usually requires a significant commitment over a period of time with increased proportional giving each year. My husband and I currently tithe, and it took us 15 years of committed giving to reorganize our household finances around this commitment. However, it is a great joy for us, and, God willing, we will continue. As someone remarked, "You don't meet many "ex" tithers!"
Who knows about my pledge?
The only person who sees the amount of your pledge commitment is the Treasurer. The Vestry personally thanks people who make a pledge and also records the offerings each week. The Rector is aware of who has made a financial commitment for the coming year.
My income is unpredictable. How can I make a pledge?
Pledging is a statement of intent to give, so consider making the commitment to give a portion of your income, whatever it may be, to God. Feel free to pledge a small amount as a symbol of your intention, and then give portions as you receive. The practice of giving is more important than the amount.
What if I can't fulfill my pledge?
Life circumstances change and so does our ability to give. A pledge is a plan, not a binding contract. If you need to adjust your pledge, just notify the Treasurer.
How many people at St. Luke's pledge every year?
Last year 44 households made a financial commitment to St. Luke's. That represents approximately 68% of our active membership. In addition, several people have included St. Luke's in their estate planning by leaving a gift in their wills. More information about planned giving is available through the Episcopal Church Foundation and the diocesan Living Stones Society.
What if I want to give more than my pledge?
Wonderful! We hope that you look for every opportunity to give thanks to God through the generous sharing of your financial gifts. Each gift given to the glory of God helps share the love of Christ in the world. On behalf of myself and the Vestry of St. Luke's, thank you!