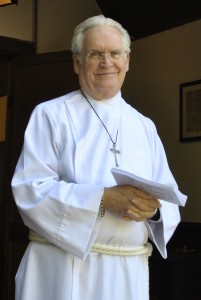 "Liturgy" comes from the Greek words meaning "the work of the people." At St. Luke's worship involves not only the priest and congregation but also a host of people serving in various aspects of the ministry of worship. Some of the ministries, such as the altar guild, are "behind the scenes" ministries; others, such as lector and chalice bearer are "up front". There is a place for everyone in some aspect of worship ministries.
Altar Guild members prepare the church for all services;
Lectors read aloud the lessons appointed for the day;
Chalice bearers give the wine during communion;
Acolytes assist the priest during the service;
Prayers of the People leaders lead the prayers of the congregation;
Ushers welcome people to church and help people get seated;
Greeters provide refreshments after the 10:30 service;
Occasional choir meets occasionally to prepare an anthem for worship.
Contact the Rector if you are interested in serving in an aspect of worship ministries on Sunday mornings.