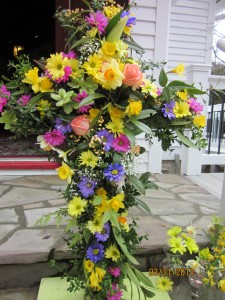 Through a rhythm of preparation, celebration and service the Church enters into the mystery of God's redeeming work in human time. We observe feast days and holy days throughout the liturgical year to focus on particular aspects of the life of Christ and the Church.
Upcoming holy days in 2017 include:
Thursday, April 13        Maundy Thursday
Friday, April 14         Good Friday
Saturday, April 15     Holy Saturday
Sunday, April 16     Easter Day
Saturday, May 6     World Labyrinth Day
Thursday, May 25     Ascension Day
Sunday, June 4     The Day of Pentecost
 
 
 

Maundy Thursday, April 13     6:00  p.m.   Simple supper of soup and bread

                              7:00 p.m.  The Maundy Thursday liturgy – we remember Jesus' new commandment to love one another. Footwashing (and hand washing) will be available for those who wish to participate. We close at sundown with the stripping of the altar in preparation for Good Friday.

 

Good Friday, April 14     12:15 p.m.     The Good Friday liturgy – we pause to reflect on the day of the crucifixion.

                              7:00 p.m.   The Stations of the Cross -after meditating on the stations we walk the way of Jesus and pray for the needs of ourselves and the world.

 

Holy Saturday, April 15    10:30 a.m.    The Holy Saturday liturgy – we gather in the garden of the Resurrection for a quiet service of reflection on this day of rest.

Easter Sunday, April 16       8:00 a.m. & 10:30 a.m.  The Day of the Resurrection! We celebrate the resurrection with two festive services of Holy Eucharist and a potluck reception and Easter egg hunt at 11:30. We will offer up our Lenten mite boxes for Habitat to Humanity.

At the 10:30 service please bring a finger food for the reception, fresh flowers for the cross, an Easter basket (if your children plan to participate in the hunt), and a bell with which to ring in the resurrection.

     "Alleluia. Christ is risen. The Lord is risen indeed. Alleluia!"

 

 
Please check our home page for details on the services and fellowship plans.