Worship is at the heart of life at St. Luke's. Every Sunday we gather together to be nourished by God's Word and the Holy Communion and sent out to share Christ's love in the world. Through our worship we are united with God, with one another, and with the communion of the faithful.
Sundays
As Episcopalians we worship according to The Book of Common Prayer. On Sunday mornings we celebrate the Holy Eucharist.
The 8:00 service is a small, quiet service without music.
The 10:30 service is the larger of the two Sunday services and includes hymns and music.
At 9:00 adults gather for study and discussion. Following the 10:30 service we meet for refreshments and fellowship.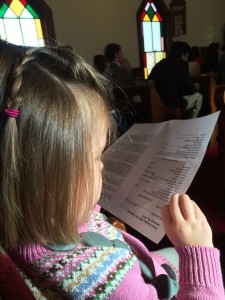 Periodically during the year at the 10:30 service we celebrate with a "family service" in which children worship with their parents and grandparents. During the summer months we may worship outdoors. From time to time we are joined by guest preachers and musicians. At St. Luke's we strive to explore the breath of worship in the Episcopal tradition throughout the church year.